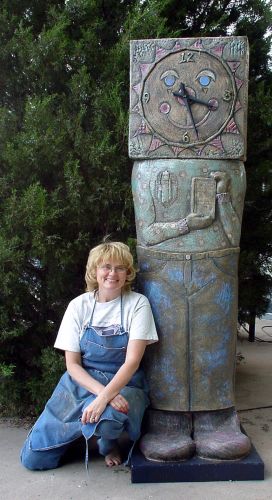 Dr. Mary & Blockhead
Hi! So glad you want to take a look at my art.
For as long as I can remember, one of the most important things in my life has been….. to be heard. My sculptures and relief carvings are an extension of my inner self. Each one has something to say to you, is designed to reach out and elicit a response. And depending upon who you are or where you are in your life, that message will be very personal, I hope.
Let me know what my work has said to you, and if you're interested in purchasing any of my expressions, please let me know. Let me do relief carvings from YOUR OWN life or build you something spectacular for your yard or home. Let YOURSELF be heard through MY work. Once you have one of my pieces, you will never see another like it anywhere. Most of my work is glazed stoneware, which will last outside for many years and inside indefinitely. I can also do bronze. Either medium is good for gravestone inlays or yard sculptures. All of my pieces are completely original and either slab-built, coiled, or wheel thrown. They are then fired to cone 5, with very subtle and intricate hand glazing. If a large piece is intended for outside installation, reinforcement is added and I am happy to aid in the final installation process. Prices range from $50 for the smallest clocks to $10,000 for the seven foot clock. Other pieces vary in price. Please contact me directly for specific information and availability.
If you would like to read Dr. Mary's short, dirty clay autobiography click here.
There's NEVER enough time! CLOCKS, clocks, clocks from 7 inches to 7 feet tall. Each has its own personality and all keep excellent time. Some are atomic clocks which set themselves, even when daylight savings time kicks in. Some are made specifically for exterior works and can be set from a remote location. Clock prices range depending upon size, construction and demand.
Blockhead is 7 feet tall and has electric works with wired remote setting features in case you install him someplace out of reach. If you look closely, he has geeky things in his pocket, and the title on the book is "It's Time". Time for what is different for everyone. But we all know that it really IS time! He retails for $10,000 and I would help to install.
---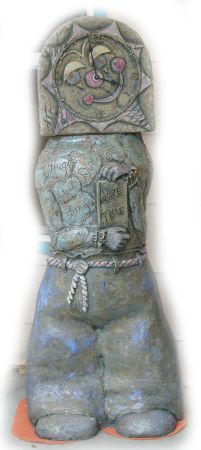 Take Time Clock
54"t 22"w 17.5"d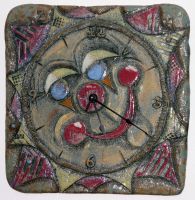 Clock Face
20"w 20"t
This Clock Face is very large, hangs on the wall and has an atomic works. It retails for $350. I have many clock faces which can be displayed on an easel or hung on the wall. They range in price from $40
The Take Time Clock has patches on his shirt with all the things we should "take time" for. His works are atomic and he retails at $4,000
---

Ultimate Comfort
41"t 12"w 10"d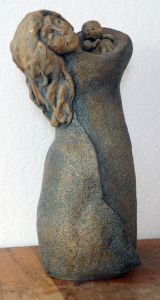 A Mother's Pride

Nestled Potential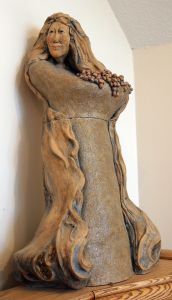 Annabel's Harvest
Love for my children is my inspiration for all of my mothers and babies. Most are self-explanatory.
Ultimate Comfort has a specific meaning for me and was inspired by a scripture where Christ says,"……as a mother comforts her child, so shall I comfort you". You can have this one in bronze or stoneware, in one or multiple pieces. Price ranges between $2,000 and $7,000, depending upon firing range, finish and other factors.
Nestled Potential is, of course, a commentary on the miracle of life and all its potential.
A Mother's Pride was inspired while waiting for the adoption of my first daughter, Nikaila, from China and is not for sale. I could create something similar just for you.
Though Annabel doesn't hold a baby in Annabel's Harvest, she is obviously a strong woman presenting the fruits of her labor. Grapes are held confidently held in her arms and her hair flows to the flow. She also has a path of switch-backs up the back of her hair, depicting the journey she's been on. Price is $3,000.
---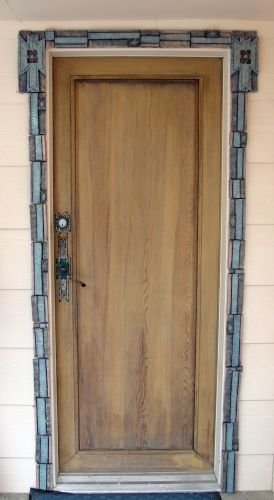 Door Framimg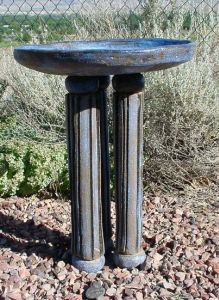 Bird Bath
Archetectural ceramics is one of my favorite things to work with.  I can do custom trim around any door, build you a fireplace mantle, fountain and waterfall pieces and more!  Use your imagination and then ask away!
The frame around on this exterior door dresses an otherwise common entry.  Prices for framework is based on the detail required and the amount of trim needed to do the job and range from $350 for a door like this one.
These blue bird baths catch the blue of the sky and bring it into your back yard for your flying little friends to enjoy.  Fired to cone 5 with glazes, these baths weather the weather quite well.  It can be made to install permanently in to concrete or free-stand with rock covering the leveling base.  The blues vary some with firing.  This bath retails between $500 and $700, depending upon installation preference.   Other colors are available upon request.
---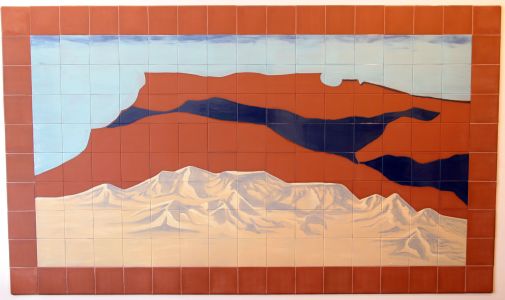 Grand Mesa Wall Mural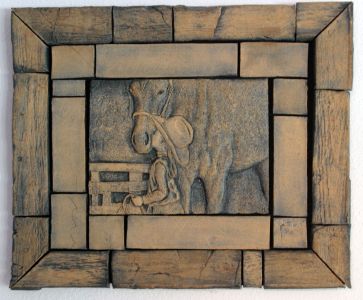 Girl and Horse
23.5"w 19.5"t
Grand Mesa Wall Mural, inspired by the view out of my window, is 8 feet by 4 feet and is glazed on terracotta floor tiles. This particular piece is already installed. But I have done similar work under kitchen cabinets and in framed depictions. A work like this one would retail at $3,000 uninstalled.
Girl and Horse is an example of what can be done to embellish and create using a photo as reference. She's already sold. Something similar would run you $1000.
---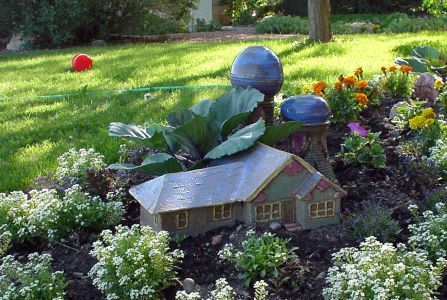 Minature Garden House with Garden Globes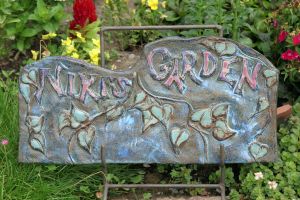 Niki's Garden Plaque
19.5"w 9.5"t
Minature Garden House with Garden Globes shows how small pieces can dress up a garden. The Globes are hand thrown and can be made in a variety of colors. They retail at $40 each. Something like the house would retail at $350.
Niki's Garden has been in the garden for 4 years, through rain and ice and snow, and still shines with color. I made THIS one for my daughter, so it's not for sale. A similar plaque for YOUR garden would run you $150.
---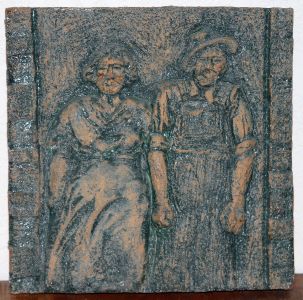 The Grandparents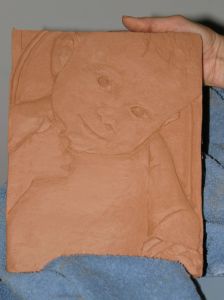 Morgan
The Grandparents tile and Morgan are more examples of what can be done personally, for you, from photos. The Grandparents is less detailed and is built up to create the images. Morgan is mostly carved with some added clay and is finer detail. Similar pieces could be yours for $500.