My love affair with clay began as early as age 7, when I dug blue and yellow shale clay from the banks of Rock Creek. Rock Creek ran through our eastern Kansas Cattle Farm and the colored dirt fascinated me. Stacking boards and bricks next to the deserted dusty country road, I made shelves to display my masterpieces. I believed this to be a grandiose take-off on the lemonade stand……….I didn't get rich.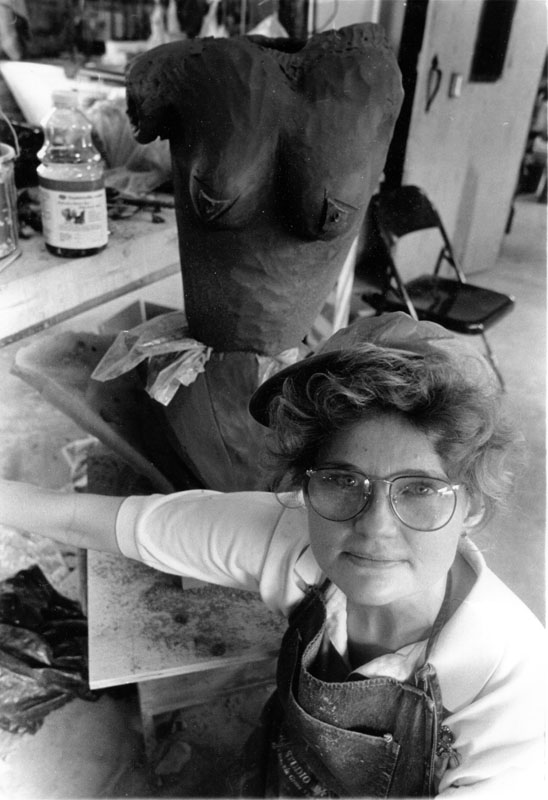 Photo by Marilyn Robinson
---
I took ceramics in 4-H. A well-meaning leader tried to humiliate me into the submission of following the crowd. I longed to learn to use her potter's wheel so enthusiastically that she disgustedly gave me a lump of clay and left me in a room alone with her wheel for what seemed to be forever. When I was thoroughly frustrated, she came in gloating that she had proven her point and that I belonged with the rest of the group coiling vessels inside of other bowls to make every shape alike! I credit her now, as a great inspiration. My desperate desire to show her my vision of MY reality and where I belonged was a spring board.
At age 14, I saved my tip money from the truck stop in Strong City. Every week I carefully and privately counted the change that I had saved and stashed in the drawers of an antique sewing machine, until I finally had enough to buy myself a Lockerbie kick wheel! I was on my WAY!
Outside of my mother who drove me all over Kansas for instruction, Lucille Green from Eldorado and John Kudlaceck, from Emporia State University gave me my first positive encouragement. They taught me that if you learn the basics and respect the clay that it can be as expressive an instrument as my guitar or paper and pen. I fell in love all over again with the pliable silk, the smell of moist clay, feeling my body work in harmony with my surroundings as I asked the clay to respond. And the exhilaration that I felt when it began to speak to me is indescribable.
Ron Hicks and his assistant, Paul, at Johnson County Community College gave me the opportunity in the early and mid 1980s to teach and always supported my spirit. They proved to me that I could do anything that I put my mind to. I did Raku firings several times each week and the spontaneous flashes of art were exciting. Over the years, I've learned more teaching than anywhere, I imagine. I absolutely love teaching and still teach workshops in my Delta, Colorado studio.
I began as a wheel potter and was led to combine wheel thrown forms with slab. The marriage of controlled forms with something that looks more unexpected was my favorite form of expression.
In 1993, I took my first sculpting class from Christine Federeghi (which I may have misspelled), who was teaching at Anderson Art Ranch in Snowmass Village, Colorado. Christine opened my eyes and my heart to a whole new way of looking at myself and at clay. A new chapter in my love story had begun.
I took a bronze sculpting semester at Mesa State from Vern Mosher and found that, though I like the permanence of bronze, I love the feel and responsive nature of water-based clay and the finished look that I'm so used to working with. I do bronzes, but I don't work the metal, myself.
The most rewarding and greatest times of growth through clay have come following a period of focus and struggle, learning the boundaries and then pushing them to find MY place, MY voice in clay. I was recently involved in another class at Anderson Ranch, this time taught by John Toki of Berkley, California. Through example and his untiring spirit, John renewed my passion and showed me that boundaries are not necessarily reality. If you can see it in your mind, you can do it! He fueled my desire to touch the clay in an intimate and expressive way, to speak to others with form and color and that scale is no obstacle. My joyful obsession with this form of expression will not be dampened.
My symbiotic relationship with clay was never in question. But my inspiration moves in waves through my life. Being a wife and mother is yet another wonderful passion and way to express myself.
I may detour to study music or science for periods of time. But I always find my way back to my dirty little love affair with clay. It is always there, ready to greet me with a warm embrace and allow me to grow in it and with it. I can't wait to see what comes with the next chapter!