No bones about it
By AARON PORTER
The Daily Sentinel
March 16, 2003
It's illegal to bear more than one child in China, a policy mandated to ensure its 1.26 billion people get enough food to eat. It's also illegal to put up extra children for adoption. The only option, even for excellent parents, is to abandon the children where they can be found and put into orphanages, Dr. Mary Kleinsorge said.
That, simply put, is how two beautiful little Chinese girls found a home in Delta and how the then-single mom started her family. Her first child, Nikaila, now 6, was found on the steps of a government building. Stephanie, now nearly 2, was found below a bridge overpass.
"I'm very grateful that someone loved them enough to abandon them, so I could find them," Kleinsorge said, misty-eyed.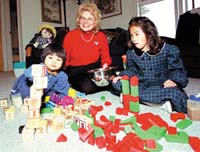 Dr Mary with daughters,
Stephanie & Nikaila
The Delta chiropractor, a 16-year resident, has packed a lot into her remarkable life. The pluck, determination and assertiveness fostered by her Midwestern upbringing likely bolstered her during the lengthy, and sometimes trying, adoption process. Kleinsorge, 45, grew up on a cattle farm near Cottonwood Falls, Kan., a tiny town that has grown to a population of just 3,000 since her childhood. The quiet country life fostered an introspective childhood.
"I spent a lot of time alone with the cattle and my dog, so there was a lot of time to think about who I was and what my purpose should be in life," said Kleinsorge, who was by far the youngest child in her family.
"The way life is structured now, I think it's very difficult for kids to get a handle on their individuality."
The cattle were an attentive audience for the young girl who routinely sang and played her guitar in the pastures. The guitar was a natural conduit for Kleinsorge's expressive personality and steered her into a musical career that gained her some popularity in the Midwest. Her mother's attentiveness nurtured Kleinsorge's musical talent. Dena Kleinsorge drove the family car one hour, each way, to get her daughter to guitar lessons. She drove two hours each way for banjo lessons, with Kleinsorge practicing in back the whole way.
When teachers said the more she practiced, the better she'd become, Kleinsorge took them seriously. She labored four to six hours per day at the guitar.
The intense work ethic likely stemmed from the "Midwestern philosophy of applying yourself and finding a purpose," she said.  Kleinsorge started writing music at age 12 and was singing country and western with other child musicians by then at civic club functions and dances. She took up another lifelong passion at that time - pottery. It started with a humiliating incident at age 12 in a 4-H Club meeting. Kleinsorge wanted to use a leader's pottery wheel instead of another activity. The woman sat her at a table with a lump of clay in a room by herself.
"I've always been very motivated by what I call negative motivation," said Kleinsorge, who remained fascinated by pottery despite the dubious introduction to it.
At age 13, Kleinsorge took a job as a waitress at a truck stop in order to help pay for a pottery wheel and a small kiln. She soon started "throwing" bottles, vases and pots on the wheel. While they looked decent, Kleinsorge hadn't yet learned to form the walls of her cylindrical shapes. So they were solid clay. And exploded when she attempted to cure them in the hot kiln. Back on the road, Kleinsorge and her mother were again driving one hour, each way, to learn how to throw proper pots.
She's crafted a fine-looking collection and, in the 1990s, took up sculpting in clay, as well. Kleinsorge "became an adult really fast," because of her exposure at the truck stop and in musical engagements. She was singing five nights a week at 16, four hours each night, but she managed to graduate early from high school. She left school at 17 after the state gave her permission to obtain a GED. She studied music and art at Wichita State University that year, but quickly concluded she wasn't ready to become a teacher.
Kleinsorge left college after one year to sing full time. She traveled across 10 states in the Midwest, stopping to sing in various towns for two weeks at a time before moving on. She recorded her first full-length record in 1975, a folk collection titled "This Day." She has made several other recordings since then.
But Kleinsorge was unable to gain national success.
"I still wasn't in places where you're liable to be discovered," she said.
In 1982, Kleinsorge was "discovered" by former country star Sonny James, who took her to Nashville, Tenn., she said. But the songs she penned didn't conform to popular trends of the time, and Kleinsorge was dead-set against sacrificing her individuality and intensely personal songwriting. It didn't help that 30,000 songs were published in Nashville that year alone, she said.
Kleinsorge was also approaching the 10-year deadline she'd set at age 15 to consider doing something other than singing if she wasn't "living a lifestyle I enjoyed." Living in Kansas City, Kan., after her run-in with Nashville, Kleinsorge had developed a strong local following as a one-musician act.
After years of singing in smoke-filled bars, Kleinsorge developed asthma. She had taken to using an inhaler between songs on stage and was "on a lot of medication." She looked older in her early 20s than she did in her 30s, she said.
A family of chiropractors who routinely caught her acts noticed her worsening condition, and the father, Edwin Newcomb, offered to examine her.
"Six months later, I was off all my medication," Kleinsorge said.
She quickly cut her hours singing in smoky bars and returned to college to study art again. She entered Johnson County Community College in 1983, but it offered her a teaching position in 1984 because of her advanced art skills.
She taught classes there while attending Cleveland Chiropractic College, where she graduated in January 1987.
"I felt like my asthma was a gift from God, because it would have been hard to leave that other passion," Kleinsorge said.
Chiropractic appealed to Kleinsorge because it is "science founded in research, but it is also very artistic, very intuitive," she said.
Kleinsorge also likes using those skills to nurture others.
"Chiropractic is a health care profession that you can live every day with love and joy in your heart. The stress level is still there. Any time you take care of people you love it's still stressful, but it's a very loving and caring profession to be in," Kleinsorge said. She opened her practice in March 1987 at Delta after an exhaustive search for a home in Colorado - away from the vast flatness of Kansas.
She laid out specific parameters for her new home. It had to be in Colorado and a community of under 30,000 people "that needed me," she said.
"I lived in Kansas City nine years, and no one knew when I moved in and no one knew when I left. If, for some reason, I ever have to leave Delta, I know people will have known I was here," she said. While her professional career soared, Kleinsorge was finding little success in starting a family. "I was single and approaching 40. My parents were older and I felt if I wanted family that maybe looking for a man to start a family with was maybe not the place to start at. I thought maybe that's not working," she said with a chuckle.
Kleinsorge began seriously considering adoption in the mid-1990s. But the cut-off age for adoptive parents is 38 in Colorado, and there were constraints on adoptions by single mothers, she said.
But in China, adoptive parents had to be 35 years old or older and it was open to single mothers, Kleinsorge said. She started the process of finding her child in 1996, unaware of the political circumstances that made so many children available for adoption.
It was an arduous process, with months of paperwork and then nearly a year passing before Chinese officials picked a child for Kleinsorge. China picks just one child for prospective parents, then sends them a photo and some personal information.
"I can't imagine anyone going through the process without faith, because you feel totally out of control during the entire process until they lay that baby in your arms," Kleinsorge said.
It's costly, between $15,000 and $20,000 including travel expenses, Kleinsorge said. Adoption in Colorado costs parents about $10,000 in fees, paperwork and other requirements. Adoptive parents are closely scrutinized, a process that Kleinsorge found uncomfortable. She was also required to study with a social worker and take parenting and adoption classes.
"Because I tend to live out of the box, I had spent so many years trying to convince myself that what other people think of me does not matter. Then, when I wanted a child, what other people thought of me meant everything," Kleinsorge said.
But about 18 months later, Kleinsorge finally boarded a plane headed for China. She went early, to recover from the trip before picking up her baby, which made for some rather interesting experiences. Kleinsorge's height and blond hair stood out like a beacon. At a zoo, she was as much an attraction as the animals, with people running up next to her and giggling as friends took pictures. Her attempts to videotape people on a bridge snarled traffic, forcing police to break up the crowd that formed around her. But all thoughts of the remarkable experiences during her first trip to China paled when she arrived at the orphanage.
"Niki" was 13 months old when Kleinsorge held her for the first time in January 1998. She weighed under 16 pounds. Her new daughter was crying when she arrived, but she proved "easy to take care of" and quickly bonded with Kleinsorge.
"It all happened in a kind of fog, where every fiber of you is kind of tingling and you can't quite catch your breath and you're just hopeful," Kleinsorge remembered with a catch in her voice.
"They hand her to you and she melts into your side and you knew why you waited so long," she said, wiping away tears.
Kleinsorge had the same maternal feelings when she arrived in China again in July 2002 to adopt her second child, Stefi.
Her second daughter was quite different, apparently "stressed" about the unfamiliar situation, Kleinsorge said. She was cranky, drawing blood when she bit Kleinsorge and gave her a bloody nose.
But it was readily apparent she was a special child at the orphanage. The staff rarely show strong feelings when a child is led away, but they were crying and kissed Stephi before she left, Kleinsorge said.
"It was obvious that she was special," she said.
Kleinsorge was also married last year to Craig Hammes, a radiologist at Montrose Memorial Hospital. They met during the musical "Clue," a program she was performing in several years ago at Magic Circle Theater in Montrose.
Picking up Stefi, she resonated with elation over her new life with her husband and children. "Some people told me it would take some time to feel like a mom, but for me, both times it was instantaneous," she said, playing the "point out the body parts game" with her newest daughter.