Welcome!
Welcome to Dr. Mary's web site! In the more than 30 years she has practiced in Delta, Colorado, Dr. Mary Kleinsorge has developed strong, compassionate relationships with her chiropractic patients. "I care for my patients like they're members of my own family," she says.
As a chiropractic physician, Dr. Mary gives special attention to the physiological and biochemical aspects of each individual, including structural, spinal, musculoskeletal, neurological, vascular, nutritional, emotional and environmental relationships. Through the adjustment and manipulation of the body, particularly the spinal column, Dr. Mary can treat a wide variety of health conditions.
For those who aren't sure if they're suffering from a chiropractic condition, Dr. Mary offers free consultations. When another specialty is called for, Dr. Mary readily provides referrals. In many cases, she can offer practical answers to health questions. Above all, she believes in educating her patients on how to care for themselves.
A magna cum laude graduate of Cleveland Chiropractic College, Dr. Mary keeps up-to-date on the best and latest treatments. She is a certified workman's compensation provider, meaning she can be your first physician of choice when you are injured in a work-related accident. If your injuries are the result of an auto accident, you should also be aware that most all med-pay auto insurance covers chiropractic care.
Chiropractic appointments are available within 24-48 hours, as well as Saturdays by appointment. Dr. Mary will do everything she can to accommodate emergencies. For more information call 970-874-4547.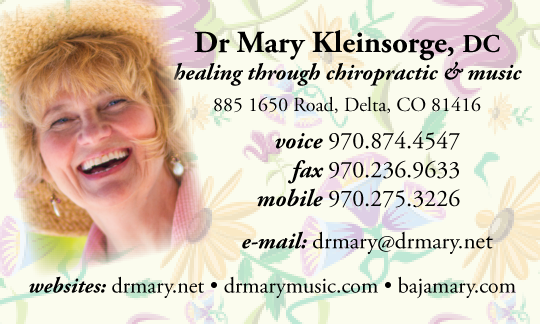 Where is Dr Mary?
Dr Mary is currently seeing patients in her Colorado office. For an appointment, you may call her at 970-874-4547. Dr Mary looks forward to seeing you!